History of the Mill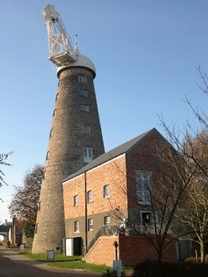 This colossal tower mill has the distinction of being the largest surviving windmill not only in Lincolnshire, but in the whole country. It can claim to be the largest complete windmill, Sutton mill in Norfolk is 80 feet high to the top of its cap. Moulton mill however is 100 feet high to the top of its ogee cap. It was built in about 1822 by Robert King. The sails were removed in 1894 after gale damage, when a steam mill with a two sack Turner roller milling plant was installed in the adjoining granary, steam power also being applied to the original stones. Serious milling ceased many years ago and a small roller mill and kibbler saw occasional use. The main use of the mill from the mid 1970's was as a store in connection with the grain merchant's business of Mr. Biggadike, whose family owned the mill from 1924 to 1995.The tower is 28 feet 9 inches in diameter at ground level and 12 feet diameter at the curb, both internally. The basement contains the engine drive gearing which then ascends to a set of stones on the frist floor by way of a vertical shaft. The elevated ground floor is spacious enough to contain a proper partitioned miller's office.

The spur gearing differs from the usual Lincolnshire pattern in that the stone nuts are all iron, the great spur wheel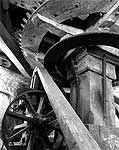 having morticed wooden cogs. This arrangement is fine until a breakage, when the job of re-cogging would take several weeks. The spur wheel has an iron hub and rim, with eight radial wooden spokes. The cogs are of very fine pitch and are very wide, which must have given a very smooth drive. The engine drive engages the spur wheel by means of another small iron nut. The nuts are 12 inches in diameter and the great spur wheel is 8'9" in diameter.


The curb is a hexagonal. wooden frame built into the brickwork, with an iron track and an inward facing tooth ring,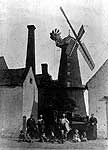 beneath which the centring wheels run. The cap frame was in poor condition and survived mostly intact apart from where the sheertrees have been cut off beyond the new roof (fitted in 1928 to replace the old ogee cap). The windshaft was gone but the tail bearing housing remained, as did the hand winding gear although not operational. Parts of the brakewheel also remained in the basement. This was all replaced in 2004 when the new ogee cap was fitted in the first phase of the restoration.



The mill had four double sided patent sails, which unusually for Lincolnshire were carried on stocks in a poll end. The fanstage was of the typical local type with the rear fly posts almost vertical. These were restored to the Mill on 21st November 2011 . This was 117years after the originals were destroyed in a freak gale of 1894.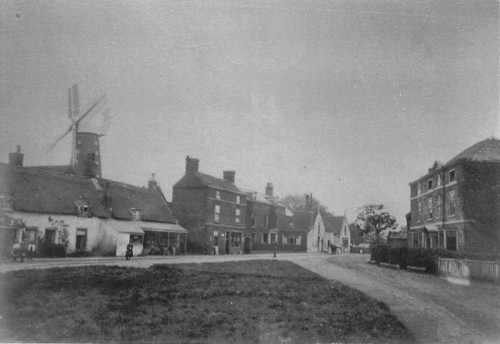 The pictures above and below were taken by the Rev J R Jackson, Vicar of Moulton ( 1866-1899)