Restoration Update
The first wholemeal flour was produced by wind power on Sunday 28th April 2013. After many false starts, breakdowns, lack of wind and patience we managed to get it right and have produced a tasty sample.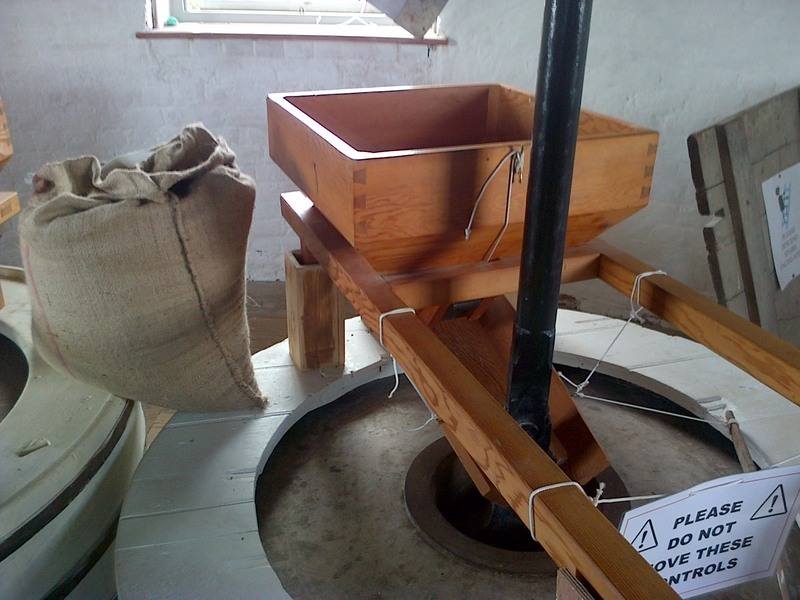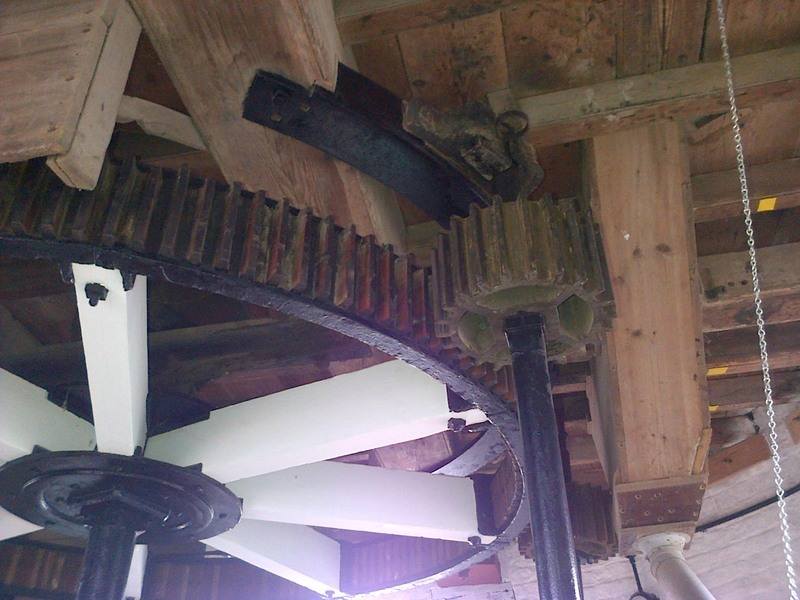 With Lincolnshire grain we have produced a sweet and tasty wholemeal flour that is available to buy from our Mill Shop in 1.5kg bags.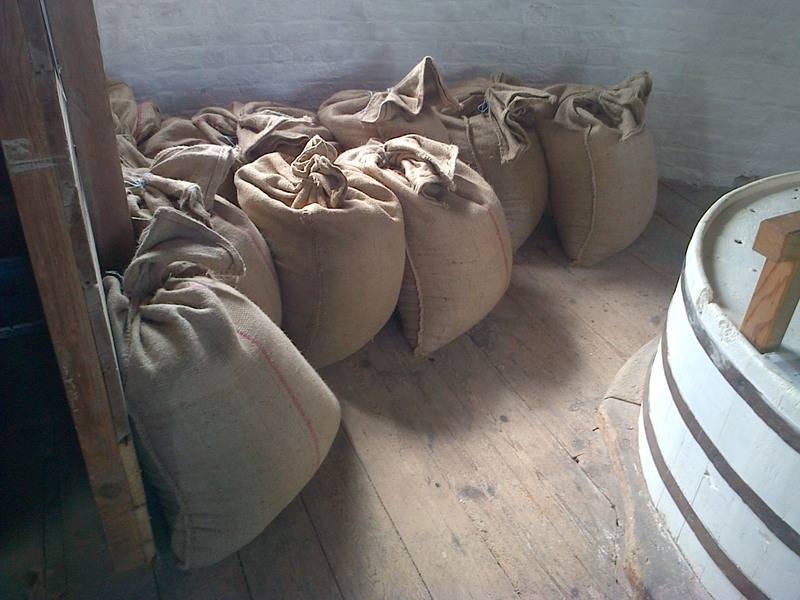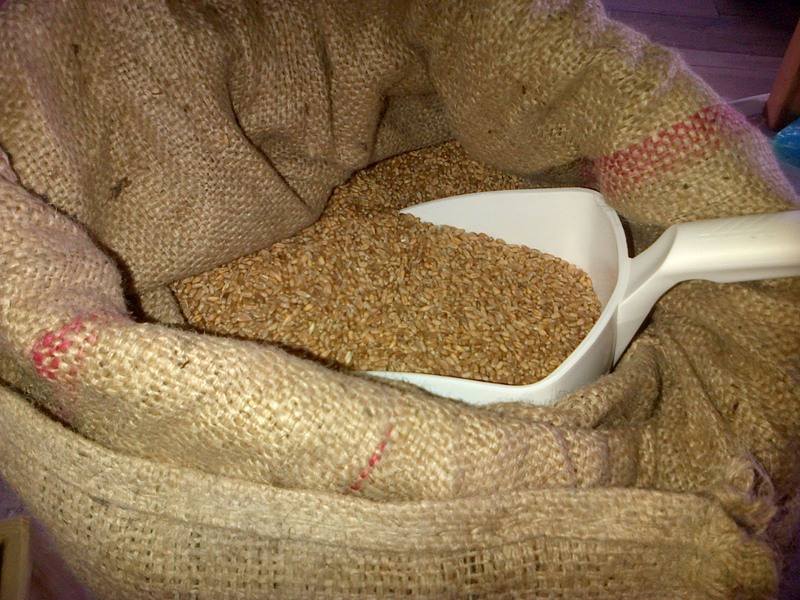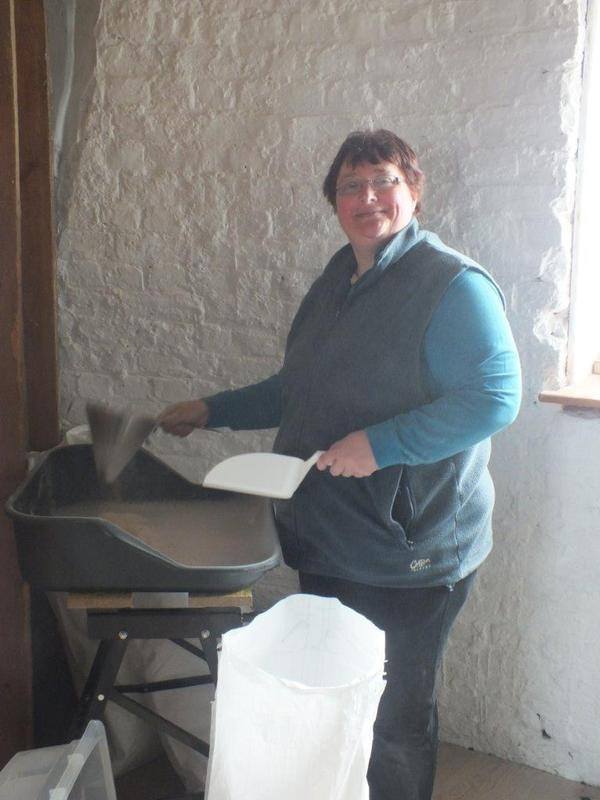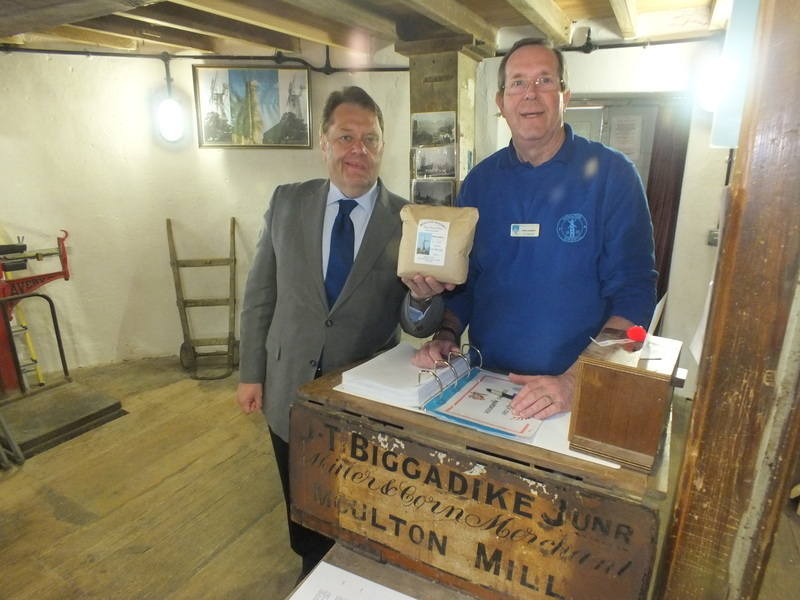 We even managed to sell a bag to our local MP John Hayes.

I always dreamed of being a 'flour girl ' and now its a reality. I am not going to apologise for looking like the 'cat that got the cream' even if that cat was covered head to toe in flour , but it would be fair to say that so many people have helped to make this moment happen. Some who are here to share it and others who never had the chance to see it become reality. So for all those friends who didn't see this journey end - this moment is for you ! I know you're watching!!!
Work began in June on the stones on the main stone floor of the Mill. We are not aware of anyone seperating these stones since the sails blew off in 1894.
I am sure Geoff and Paul uncovered some fossilised spider remains when taking apart the vats that surround the stones.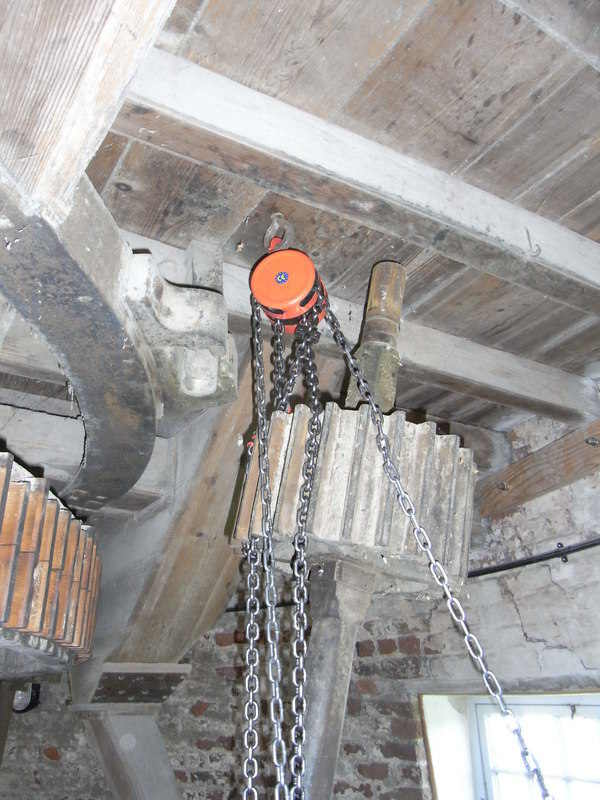 Stones were hoisted apart to allow the stone nut to be stripped.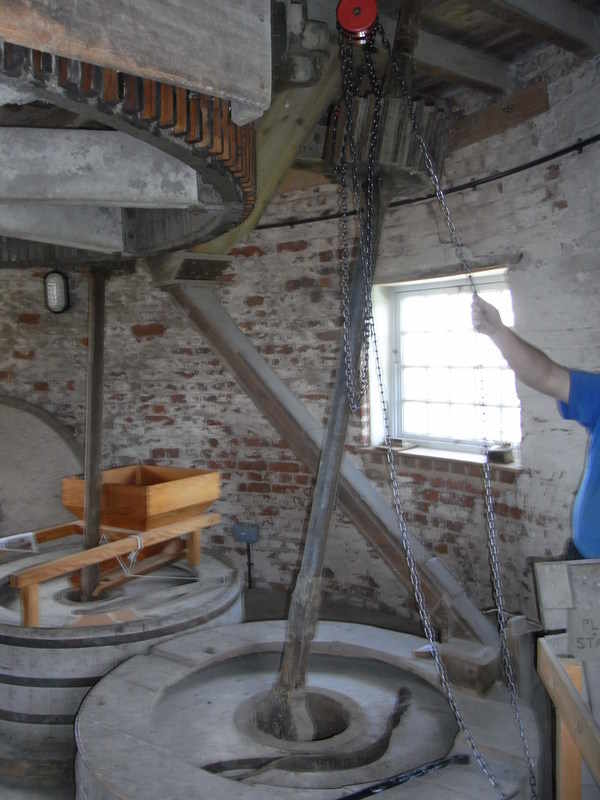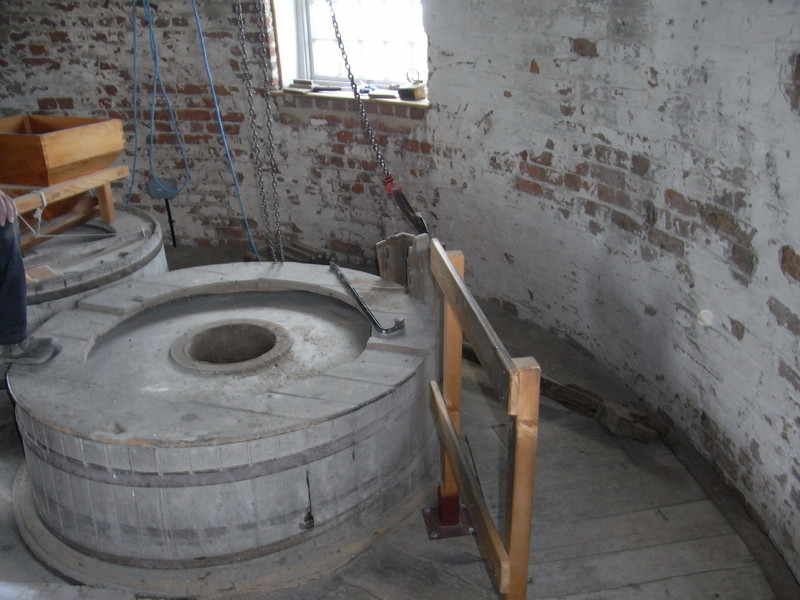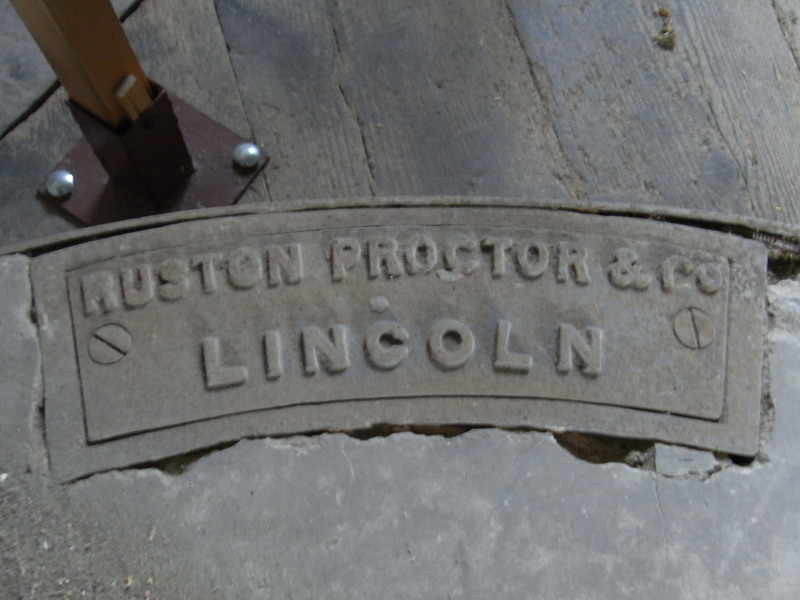 Detail on the stone reads 'Ruston Proctor and Co Lincoln'
Ruston,Proctor and Co was established in Lincoln in 1857 and were associated with the manufacture of steam engines and tractors. They later became Rustons and then Ruston and Hornsby.
The firm started as millwrights and implement manufacturers 'Burton & Proctor' in Lincoln in 1840.Joseph Ruston became a partner in the company in 1857, and the company changed name to Ruston, Proctor & Co. and grew to become a major agricultural engineering firm.In 1918 the firm merged with the established Richard Hornsby and sons, from Grantham.
Rustons were primarily steam engineers, manufacturing portable,stationary and traction engines ,boilers and associated engineering products such as winding gear, shafts and pulleys. Threshing machines, clover hullers, corn mills, maize shellers and pumps for steam power were also made. As well as engines for agriculture machines Rustons made railway locomotives, industrial equipment and mining machinery. The company also expanded into electrical and diesel engineering.
The firm were one of the first to manufacture steam-powered excavating machinery – in the 1880s producing the "Dunbar & Ruston's" steam navvy (excavator). These 2 cu yd machines were used in the construction of the Manchester Ship Canal. In 1906 they built the "Ruston Light Steam Shovel", and exhibited it at the Royal Agricultural Show of 1907 held in Lincoln, the machine being of 3/4 cu yd capacity.
It is believed that the steam engine used to power the Mill after 1894 was a Rustons engine.
Work has started on the sails and our volunteers have begun making the shutters that will be attached to the sail stocks.
The end pieces are cast and had to be drilled to fit the frames.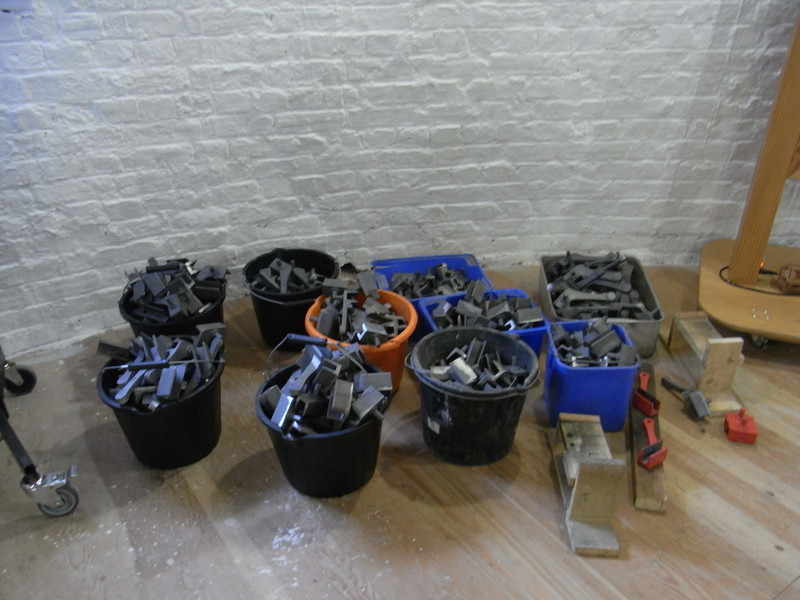 Jigs were set up for the diferent castings and the holes drilled out in the workshop.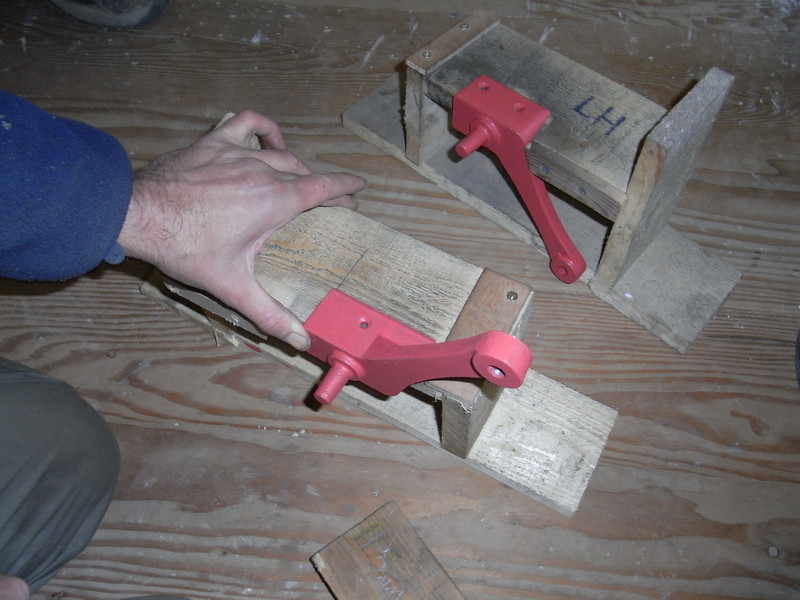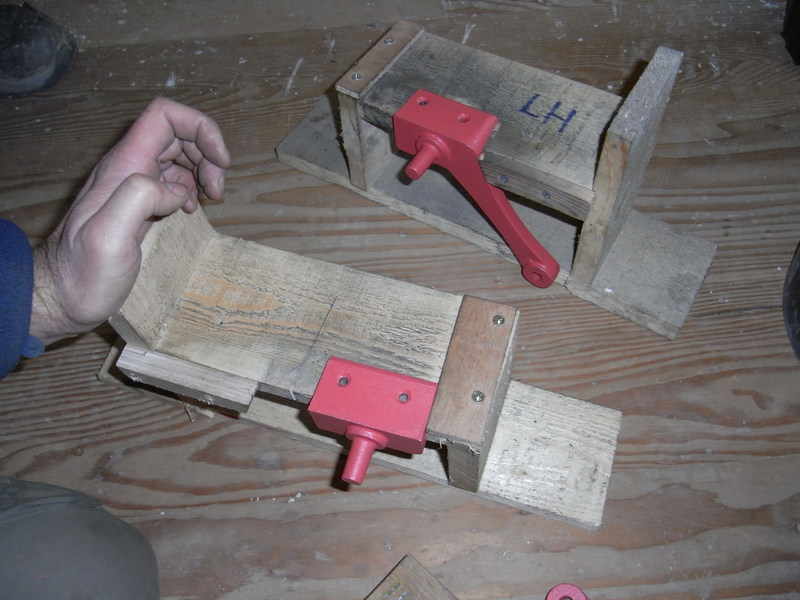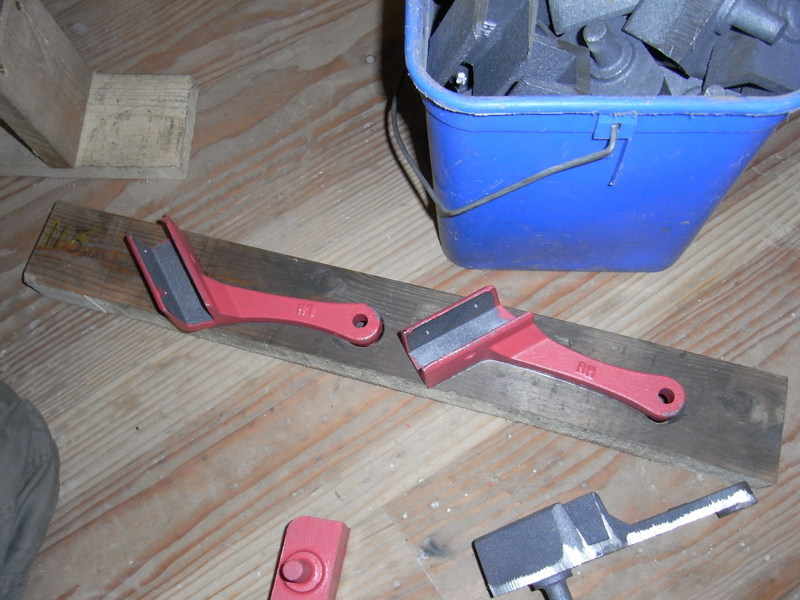 Sail stock on the cap with striking rod visible.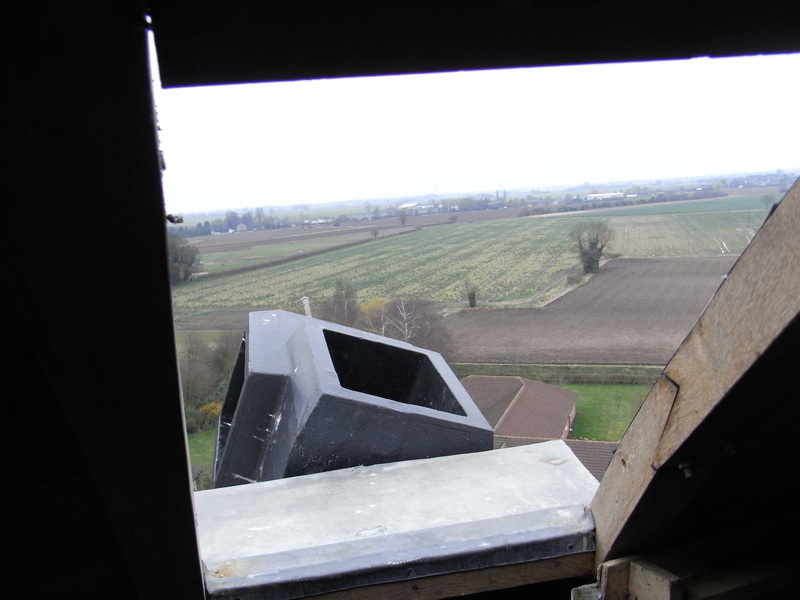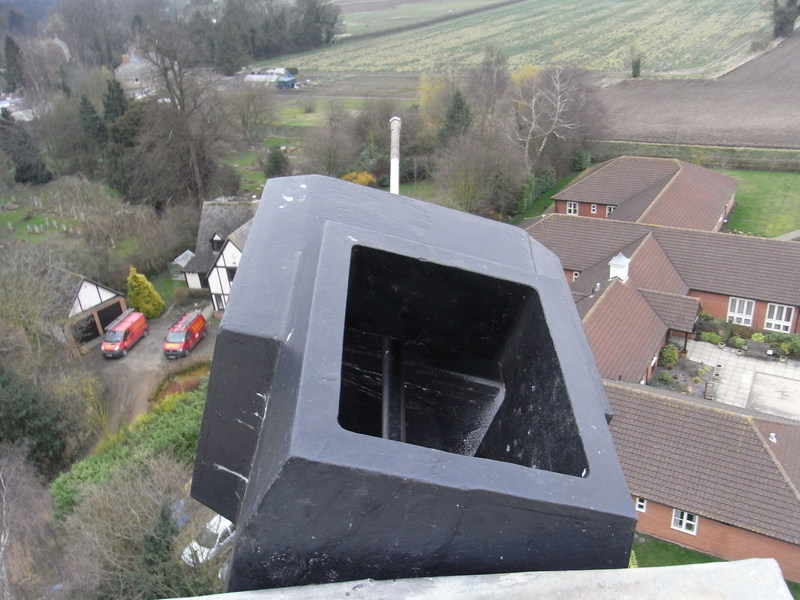 The Millwright Drilling the castings